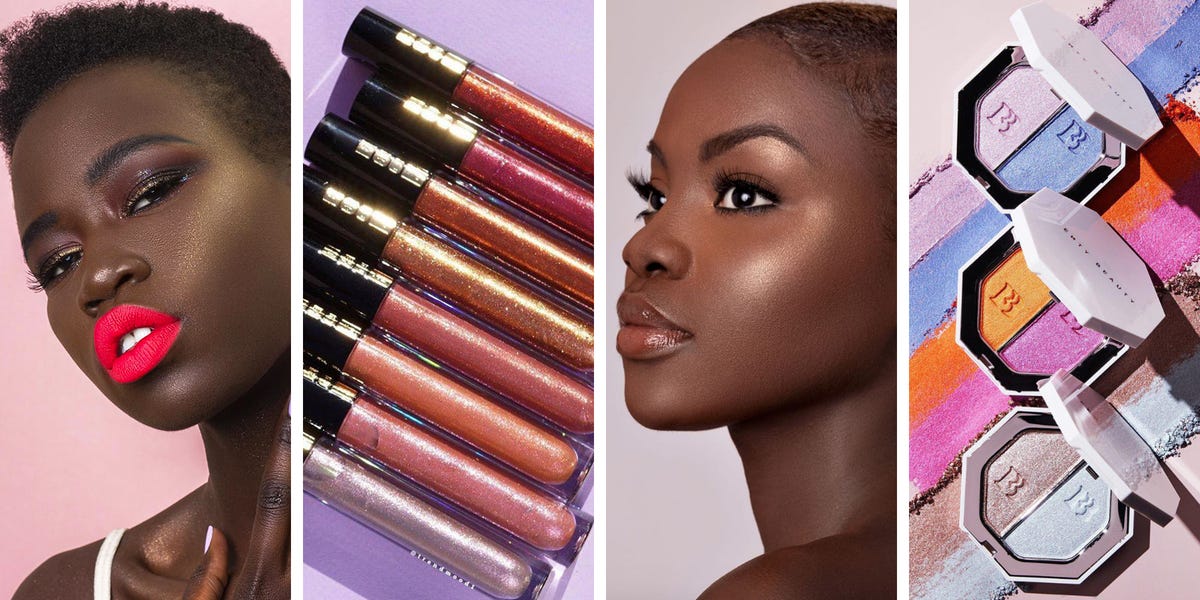 Courtesy
We need to support and celebrate Black beauty brands, now and every day. These innovators are extending shade ranges, innovating what pigments exist on the color spectrum, and creating and crafting essentially every major beauty trend in the space. Below, 17 makeup brands owned by women of color to support today, tomorrow, and every day after that.
Advertisement – Continue Reading Below
1
Iman Cosmetics
This one needs no introduction—legendary model Iman founded her cosmetics company way back in 1994. The brand touts itself as the "first cosmetics and skincare collection designed for all women of skin of color" and it certainly delivers. Its complexion products are especially great, with shade-inclusive options in liquid, powder, and stick variations.
Iman Luxury Concealing Foundation, $16; imancosmetics.com
2
Lipmatic
Lipmatic, founded in 2014, is a great option for green beauty lovers: Its formula is 98 percent organic. Plus, its wide shade range, which includes metallics, deep berries, and nudes, are pigmented enough for deeper skin tones.
Lipmatic New York In Bloom Liquid Matte Lipstick 4-Pack, $55; lipmatic.com
3
UOMA Beauty
Founder Sharon Chuter created the beauty brand for "those who have been left." The line is full of powerfully pigmented products like the Black Magic Lipstick collection. If eyes are more your thing, may we suggest the Carnival Color Palette, which includes the brightest yellow and richest bronze shades.
Black Magic Carnival Palette, $44; uomabeauty.com
4
Mented Cosmetics
This brand, founded by KJ Miller and Amanda E. Johnson, originally started because they felt like there were no "nude" lipsticks that matched Black women's skin. Mented has since expanded into other beauty categories including nail polish and eyeshadow. They recently just made headlines for raising $3 million(!) in funding—clearly it was much-needed in the beauty world.
Mented Everyday Eyeshadow Palette, $28; mentedcosmetics.com
5
The Lip Bar
This beauty brand launched in 2012 with the motto "challenging the beauty standard." It does just that by creating a vegan and cruelty-free line of cosmetics that not only have major color payoff but also come at a friendly price point. There's nowhere better if you want super bright lip colors.
The Lip Bar Liquid Matte in Haute Mess, $10; thelipbar.com
6
Bahi Cosmetics
Founder Danielle Bahi was only a college student when she launched her line of homemade cosmetics using ingredients found in farmer's markets. She's since expanded to skincare and grown a fanbase in that market, but her vibrant eye shadows, bomb highlighters, and natural-looking false lashes are also standouts.
Bahi Eyeshadows, $10; bahi.care
7
Juvia's Place
Juvia's Place is one of the most popular WOC-owned makeup lines thanks to its richly pigmented eyeshadow palettes in both shimmer and matte—which are beloved by beauty bloggers.
Juvia's Place Zulu Eyeshadow, $18; juviasplace.com
8
Beauty Bakerie
This Insta-popular line was founded in 2011 by Cashmere Nicole and takes inspiration from desserts. Fittingly, its products are all sweets-inspired: Cake Face concealer, Flour Setting Powder, and its most popular product: Matte Lip Whip liquid lipsticks.
Beauty Bakerie Scoops Élysées Blush Palette, $38; beautybakerie.com
9
Pat McGrath Labs
The beauty industry swooned when iconic makeup artist Pat McGrath started her own collection in 2015. Her product launches—eyeshadow palettes, lip glosses, highlighters, and more—just keep getting better.
Pat McGrath Divine Rose Trio Lip, $80; patmcgrath.com
10
Coloured Raine
Coloured Raine was started in 2013 by Loraine R. Dowdy, who left the financial industry to create cosmetics that cater to women of color. The line includes intense eyeshadow palettes and liquid matte lipsticks in every hue from your usual reds and pinks to more wild violet, green, and black.
Vivid Pigment Palette, $44; colouredraine.com
11
MDMflow
MDMflow takes inspiration from the '90s—it's no wonder there's a great selection of lip glosses. On top of handmade lipsticks (including one named "Milkshake" after the Kelis song), the brand moved on to mascara and also launched a hybrid serum foundation, Flawless Base, for "all skin types, for all skin tones."
MDMflow Bossy Lipstick, $19; mdmflow.com
12
Omolewa Cosmetics
This brand's tagline is "committed to inclusion." True to form, it sells complexion products that make sure deeper skin tones are covered and eye shadows hues that pop on melanin.
Omolewa Cosmetics World Tour Palette, $35; omolewamakeup.com
13
Vera Moore
Before starting her namesake cosmetics line, Vera Moore honed her beauty chops as a soap opera actress on Another World. Hoping to fill a void for products formulated for women of color, she developed a full collection of not only makeup but skincare as well. One highlight from her collection is a rainbow assortment of individual eyeshadows.
Vera Moore Cosmetics Eye Shadow Pearlized, $17; veramoorecosmetics.com
14
Fenty Beauty
This list wouldn't be complete without Rihanna's Fenty Beauty, which launched in September 2017 and changed the beauty industry as we know it with 40 shades of foundation and killer highlighters made for glowing on deep skin.
Fenty Beauty Killawatt Foil Freestyle Highlighter Duo, $36; fentybeauty.com
15
AJ Crimson Beauty
AJ Crimson, whose work you've seen on Christina Milian, Brandy, Raven-Symone, Estelle, Regina King, Angela Bassett, and more, created a line of products that are celebrity makeup artist-approved.
AJC Universal Finishing Powder, $35; ajcrimson.com/
16
Danessa Myricks Beauty Makeup
Founder Danessa Myricks asks, "What if beauty had no boundaries?" with her line of loose pigments, foundations, and concealers, all meant to be multi-use for all parts of the face. You can learn more about the innovator behind the line here.
Mini Veil Trio Highlighters, $30; danessamyricksbeauty.com
Nerisha Penrose
Assistant Editor
Nerisha is the assistant editor at ELLE.com, covering all things beauty and fashion.
Chloe Hall
Beauty Director
Chloe Hall oversees all beauty coverage at ELLE.com.
Kristina Rodulfo
Beauty Director
Kristina Rodulfo is the Beauty Director of Women's Health—she oversees beauty coverage across print and digital and is an expert in product testing, identifying trends, and exploring the intersections of beauty, wellness, and culture.
This content is created and maintained by a third party, and imported onto this page to help users provide their email addresses. You may be able to find more information about this and similar content at piano.io
This commenting section is created and maintained by a third party, and imported onto this page. You may be able to find more information on their web site.
Advertisement – Continue Reading Below